(No fox ears)
Who are you?
Name:
Ceridwen Yuki
Age:
21
Birthday:
02/Nov
Bloodline:
Ice Release
Gender:
Female
Sexual preference:
Heterosexual
What can you do?
Village:
Kirigakure
Rank:
Genin
Element(s):
- Wind Release
- Water Release
Stats:


Strength: 10

Speed: 10

Endurance: 10

Perception: 10

Chakra: 10

Traits:
Positive Traits:


Name: Jutsu Master
Type: Positive
Description: Someone with this trait is naturally skilled in the art of crafting jutsu. As such, upon character creation they receive double the standard jutsu (applies to Academy Ninja's rank up as well), and further more, they receive a 20% word count reduction in training jutsu.

Name: Chakra Ocean
Type: Positive
Description: Someone with this trait has a naturally larger chakra pool, and has an easy time building that pool. As such they receive a passive buff of +50 to their chakra, and a 20% WC reduction to chakra training.

Negative Traits:


Name: Frail
Type: Negative
Description: Someone with this trait is naturally brittle, and has a hard time building up resistances. As such they receive a passive debuff of -50 to their Endurance, and a +20% WC to Endurance training.

Name: Chakra Weak
Type: Negative
Description: Someone with this trait has less naturally less potent chakra, and as such all techniques receive a -1 to their damage.

Name: Unfocused
Type: Negative
Description: Those with this trait have a hard time focusing. As such, those with this trait cannot use any jutsu which requires Standard Concentration. This negative cannot be taken with the 'Multi-Tasker' Positive.

What do you look like?
Height:
164 cm (5'38")
Weight:
63 Kg (136 lbs)
Hair:
Light blonde, dyed blue/purple
Eyes:
Spring Blue
General appearance:
Despite the frailty of the Yuki clan, Ceridwen radiates health with the shine of an aurora borealis. Long, somewhat wild light blonde hair has been dyed in blues and purples, generally kept loose to allow the wind its games with it until serious business requires her to tie it with her Kiri-headband. Her spring blue eyes hold the vibrancy of life, and complement her rather deep, husky voice in its expression towards a more serious approach in life. Her skin is fair, burning easily under bright suns, and therefore mostly covered by long-sleeved shirts, robes or cloaks covering most of the body. Perhaps stereotypically, as a 'snow-maiden' of the Yuki clan, Ceridwen often wears whites and blues as it fits well with the snow of the clan's Release and the white fur of her seijutsu companion. Unknown to many, her back holds the
tattoo of a vine bearing white blooming flowers
, seemingly frozen to be preserved for an eternity.
Getting to know you.
Personality:
Ceridwen often acts as the brood mother or the leader of a pack, mostly due to her interest and affinity with seijutsu. She may not necessarily be the one always calling the shots, but she certainly will be the one enforcing them, believing that despite weaknesses, everyone can play a pivotal role within a team. As such, she's often quick to snap to those that do not pull their weight or step out of line, yet equally prone to do whatever in her might to keep her small 'pack' together, no matter the differences in personality and points of view - losing even one member is bound to crush her heart.
The downside to this, is that Ceridwen remains hard to impress and doesn't easily thaw when meeting strangers. Much like her clan, she can be as cold as ice, especially to those she has deemed as unnecessary in her life. While this generally will not push her to any form of sabotaging someone else's path, it is nonetheless a dangerous side to be considering Ceridwen can be spiteful to the point of making it ridiculous - whenever she is raging, she takes a life away.
But there is an equal counterpart to this cold-hearted side of the woman. When in love, Ceridwen remains almost blindly devoted to the man holding her heart, attempting to preserve the image of love for an eternity to come by making sure his body, his joy and his reputation remain unscathed. Truly, if need be, she'd encase herself with her lover in an eternal tomb of ice just to make sure nothing and no one ever breaks the perfect image of their love for each other.
Likes:
- Much of Ceridwen's likes run along the line of finding the perfect 'alpha' or members for her 'pack'. She likes people who don't need to brag to get things done, people who can look beyond the mundane and the superficial to see what truly makes a heart beat, and people who not only carry their own weight but form a true asset in a team. Generally, speaking, reliability in friendship, companionship or rivalry.
- She likes the coming of spring and the waking of nature as much as the beauty of untouched snow or snow angels during winter.
- Hot cocoa with whipped cream always succeeds to melt her heart.
- Origami and poetry. Two expressions of the philosophy that 'Nothing can always be formed into something."
Dislikes:
- Perhaps as an aftermath from the war, Ceridwen has grown increasingly fond of rest and quietude. That's not to say people can't be speaking, but shouting and explosions would be two things that firmly trouble her peace of mind, making her avoid construction works and crowded areas as much as possible. Much in line with this, she is not fond of unnecessary violence despite perfectly being able to slit someone's throat without flinching, and neither can she cope well with loud-mouths seemingly hogging all the attention.
- She's not too fond of spicy food and dislikes beer as a beverage, preferring cocktails or wine instead.
Fears/Phobia:
- Her biggest fear usually contains the loss of a loved one. May it be friend, rival or husband, those that have found their way into her heart aren't easily off the hook. The pain such loss can bring can devastate her, and she fears that pain.
- Seagulls. Their ugly squawking, their arrogant air, and their hostile takeover that allowed them to dominate the shores. They are nasty creatures, and for some reason make her hysterical.
Ideals/Motivations:
Aside from her 'pack', Ceridwen dreams about having children. But to protect those and provide a reliable life, she understands that in the early rise of the Villages, strength must be gathered. Even if a semblance of peace has now settled down in the world, Ceridwen doesn't believe that the nature of Man will remain as such. In preparation for such a turn of events, she aims to become stronger so that not only she is able to defend what she cared for, but also able to pass on what has enriched her to the future generations.
She believes that the unspoken caste-system in Kirigakure, as well as its harsh approach on deserving respect, is a rightful choice. While this certainly stems from being born in a Kiri-bred lineage, the ideals falls much in line with her usual approach of strangers - Ceridwen does not believe outlanders are to be given the same trust and privileges as those she knows by heart.
As a side-dream, she intends to make seijutsu respected within Kirigakure, a Village otherwise known to be fond of weapons.
History:
It was a bloody mess up to nine years ago when Kirigakure was finally founded and peace settled down upon the Warring States like dust does in an abandoned room. Ceridwen was 12 back then when the Villages started their construction, but she knew what wars could do. Two years prior, she had been old enough to see and never forget the atrocities that had occurred. She had been part of them, as the war came knocking on their door one day. Though not alone in the house, her parents were too late to stop Ceridwen from opening the door, which allowed the enemies to enter the building without violence. A short skirmish broke out as her parents arrived on the spot, but the one that had threatened Ceridwen had not expected the child, blessed with an abundance of chakra even for her age, to empty most of her reserves in an explosion of cutting wind. While certainly the wild release of fuuton chakra had not been deadly, it allowed her father to catch the intruder of guard and kill him for doing so.
That day changed her forever. The blood on her hands, the chakra expulsion, the shell shock. Seemingly safe at home, but the world just next door was such a stark contrast. Ceridwen could see the corpses of her neighbours who had failed to defend themselves, the corpses of other intruders that had been killed off in retaliation. The war had found them and now stood at their doorstep. Her parents packed everything they could, grabbed Ceridwen by her hand and fled to find a different place where they could live in peace.
Many of her clan had died in that war, too few had escaped to go undercover. Ultimately, though low in numbers, the Yuki clan survived and helped with the founding of Kirigakure. Ceridwen, then twelve, had helped then and there with what little she could do, even if they were such menial tasks as handing nails or bringing breads to the hungry at her mother's behest. But even then, Kirigakure would never be the peaceful home she had once known. It would only be a shelter. A shelter that harboured like-minded people, brought the remnants of scattered clans together in hopes to find peace - and all the child could ask: will it ever last?
As Kirigakure enlarged and new buildings rose from the ground, the semblance of normal life returned. The first Academy opened, and with it, the opportunity to improve upon her chakra molding abilities presented itself. Reluctant at first as flashbacks of the invasion overwhelmed her mind, even Ceridwen eventually joined as a student, and graduated as a genin of the newfound Village. Though having had a late start, her age and experience will certainly help her in rectifying that little bump.
Face claim:
"Kaminari" (Art Trade) by Harumagai
Last edited by Ceridwen on Fri Dec 29, 2017 2:05 pm; edited 1 time in total



Posts

: 30





•You still have '10' stat points to use as you see fit, as you gain '20' free with being a Genin and as a base line all characters regardless of rank start with '10' in their charka. [such can of course be added to.]



Posts

: 61



Character application.:

Ceridwen wrote:

(No fox ears)

Who are you?

Name:

Ceridwen Yuki

Age:

21

Birthday:

02/Nov

Bloodline: Ice Release Gender:

Female

Sexual preference:

Heterosexual

What can you do?

Village:

Kirigakure

Rank:

Genin

Element(s):

- Wind Release

- Water Release

Stats:



Strength: 5

Speed: 5

Endurance: 0

Perception: 10

Chakra: 10


Traits:

Positive Traits:


Name: Jutsu Master
Type: Positive
Description: Someone with this trait is naturally skilled in the art of crafting jutsu. As such, upon character creation they receive double the standard jutsu (applies to Academy Ninja's rank up as well), and further more, they receive a 20% word count reduction in training jutsu.

Name: Chakra Ocean
Type: Positive
Description: Someone with this trait has a naturally larger chakra pool, and has an easy time building that pool. As such they receive a passive buff of +50 to their chakra, and a 20% WC reduction to chakra training.


Negative Traits:


Name: Frail
Type: Negative
Description: Someone with this trait is naturally brittle, and has a hard time building up resistances. As such they receive a passive debuff of -50 to their Endurance, and a +20% WC to Endurance training.

Name: Chakra Weak
Type: Negative
Description: Someone with this trait has less naturally less potent chakra, and as such all techniques receive a -1 to their damage.

Name: Unfocused
Type: Negative
Description: Those with this trait have a hard time focusing. As such, those with this trait cannot use any jutsu which requires Standard Concentration. This negative cannot be taken with the 'Multi-Tasker' Positive.


What do you look like?

Height:

164 cm (5'38")

Weight:

63 Kg (136 lbs)

Hair:

Light blonde, dyed blue/purple

Eyes:

Spring Blue

General appearance:

Despite the frailty of the Yuki clan, Ceridwen radiates health with the shine of an aurora borealis. Long, somewhat wild light blonde hair has been dyed in blues and purples, generally kept loose to allow the wind its games with it until serious business requires her to tie it with her Kiri-headband. Her spring blue eyes hold the vibrancy of life, and complement her rather deep, husky voice in its expression towards a more serious approach in life. Her skin is fair, burning easily under bright suns, and therefore mostly covered by long-sleeved shirts, robes or cloaks covering most of the body. Perhaps stereotypically, as a 'snow-maiden' of the Yuki clan, Ceridwen often wears whites and blues as it fits well with the snow of the clan's Release and the white fur of her seijutsu companion. Unknown to many, her back holds the

tattoo of a vine bearing white blooming flowers

, seemingly frozen to be preserved for an eternity.

Getting to know you.

Personality:

Ceridwen often acts as the brood mother or the leader of a pack, mostly due to her interest and affinity with seijutsu. She may not necessarily be the one always calling the shots, but she certainly will be the one enforcing them, believing that despite weaknesses, everyone can play a pivotal role within a team. As such, she's often quick to snap to those that do not pull their weight or step out of line, yet equally prone to do whatever in her might to keep her small 'pack' together, no matter the differences in personality and points of view - losing even one member is bound to crush her heart.

The downside to this, is that Ceridwen remains hard to impress and doesn't easily thaw when meeting strangers. Much like her clan, she can be as cold as ice, especially to those she has deemed as unnecessary in her life. While this generally will not push her to any form of sabotaging someone else's path, it is nonetheless a dangerous side to be considering Ceridwen can be spiteful to the point of making it ridiculous - whenever she is raging, she takes a life away.

But there is an equal counterpart to this cold-hearted side of the woman. When in love, Ceridwen remains almost blindly devoted to the man holding her heart, attempting to preserve the image of love for an eternity to come by making sure his body, his joy and his reputation remain unscathed. Truly, if need be, she'd encase herself with her lover in an eternal tomb of ice just to make sure nothing and no one ever breaks the perfect image of their love for each other.

Likes:

- Much of Ceridwen's likes run along the line of finding the perfect 'alpha' or members for her 'pack'. She likes people who don't need to brag to get things done, people who can look beyond the mundane and the superficial to see what truly makes a heart beat, and people who not only carry their own weight but form a true asset in a team. Generally, speaking, reliability in friendship, companionship or rivalry.

- She likes the coming of spring and the waking of nature as much as the beauty of untouched snow or snow angels during winter.

- Hot cocoa with whipped cream always succeeds to melt her heart.

- Origami and poetry. Two expressions of the philosophy that 'Nothing can always be formed into something."

Dislikes:

- Perhaps as an aftermath from the war, Ceridwen has grown increasingly fond of rest and quietude. That's not to say people can't be speaking, but shouting and explosions would be two things that firmly trouble her peace of mind, making her avoid construction works and crowded areas as much as possible. Much in line with this, she is not fond of unnecessary violence despite perfectly being able to slit someone's throat without flinching, and neither can she cope well with loud-mouths seemingly hogging all the attention.

- She's not too fond of spicy food and dislikes beer as a beverage, preferring cocktails or wine instead.

Fears/Phobia:

- Her biggest fear usually contains the loss of a loved one. May it be friend, rival or husband, those that have found their way into her heart aren't easily off the hook. The pain such loss can bring can devastate her, and she fears that pain.

- Seagulls. Their ugly squawking, their arrogant air, and their hostile takeover that allowed them to dominate the shores. They are nasty creatures, and for some reason make her hysterical.

Ideals/Motivations:

Aside from her 'pack', Ceridwen dreams about having children. But to protect those and provide a reliable life, she understands that in the early rise of the Villages, strength must be gathered. Even if a semblance of peace has now settled down in the world, Ceridwen doesn't believe that the nature of Man will remain as such. In preparation for such a turn of events, she aims to become stronger so that not only she is able to defend what she cared for, but also able to pass on what has enriched her to the future generations.

She believes that the unspoken caste-system in Kirigakure, as well as its harsh approach on deserving respect, is a rightful choice. While this certainly stems from being born in a Kiri-bred lineage, the ideals falls much in line with her usual approach of strangers - Ceridwen does not believe outlanders are to be given the same trust and privileges as those she knows by heart.

As a side-dream, she intends to make seijutsu respected within Kirigakure, a Village otherwise known to be fond of weapons.

History:

It was a bloody mess up to nine years ago when Kirigakure was finally founded and peace settled down upon the Warring States like dust does in an abandoned room. Ceridwen was 12 back then when the Villages started their construction, but she knew what wars could do. Two years prior, she had been old enough to see and never forget the atrocities that had occurred. She had been part of them, as the war came knocking on their door one day. Though not alone in the house, her parents were too late to stop Ceridwen from opening the door, which allowed the enemies to enter the building without violence. A short skirmish broke out as her parents arrived on the spot, but the one that had threatened Ceridwen had not expected the child, blessed with an abundance of chakra even for her age, to empty most of her reserves in an explosion of cutting wind. While certainly the wild release of fuuton chakra had not been deadly, it allowed her father to catch the intruder of guard and kill him for doing so.

That day changed her forever. The blood on her hands, the chakra expulsion, the shell shock. Seemingly safe at home, but the world just next door was such a stark contrast. Ceridwen could see the corpses of her neighbours who had failed to defend themselves, the corpses of other intruders that had been killed off in retaliation. The war had found them and now stood at their doorstep. Her parents packed everything they could, grabbed Ceridwen by her hand and fled to find a different place where they could live in peace.

Many of her clan had died in that war, too few had escaped to go undercover. Ultimately, though low in numbers, the Yuki clan survived and helped with the founding of Kirigakure. Ceridwen, then twelve, had helped then and there with what little she could do, even if they were such menial tasks as handing nails or bringing breads to the hungry at her mother's behest. But even then, Kirigakure would never be the peaceful home she had once known. It would only be a shelter. A shelter that harboured like-minded people, brought the remnants of scattered clans together in hopes to find peace - and all the child could ask: will it ever last?

As Kirigakure enlarged and new buildings rose from the ground, the semblance of normal life returned. The first Academy opened, and with it, the opportunity to improve upon her chakra molding abilities presented itself. Reluctant at first as flashbacks of the invasion overwhelmed her mind, even Ceridwen eventually joined as a student, and graduated as a genin of the newfound Village. Though having had a late start, her age and experience will certainly help her in rectifying that little bump.

Face claim:

"Kaminari" (Art Trade) by Harumagai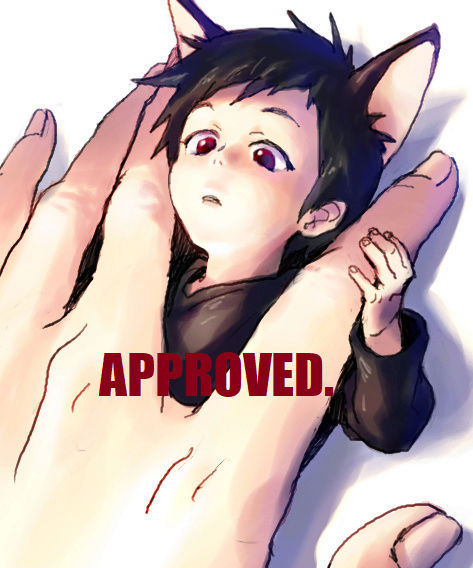 Posts

: 61



Similar topics
---
Permissions in this forum:
You
cannot
reply to topics in this forum