Name:
Senju (千手一族, Senju Ichizoku)
History:
The Senju clan (千手一族, Senju Ichizoku) are one of the oldest clans in the Ninja World. The Senju are distant relatives of the Uzumaki clan, and for that reason the two clans remained close allies throughout the years. Members at times married between clans, and the Uzumaki would provide fūinjutsu whenever the Senju needed one performed. More distantly, the Senju are also related to the Uchiha clan, who descend from Hagoromo's elder son, Indra. Whereas Indra believed peace could be achieved through power, Asura believed peace could be achieved through love, a difference of mindset that caused them to battle over inheritance to the Sage's ways during their lifetimes. Their battle continued through the generations to their descendants, though neither the Senju nor the Uchiha remembered this reason for their conflict.
By the time of the Warring States Period, the Senju and Uchiha had emerged as the strongest shinobi clans in the world. When one of the fledgling countries of the era would hire the Senju to fight in their wars, the opposing side would hire the Uchiha. The constant warfare between their clans only fueled their hatred, with all Senju owing the death of a loved one to an Uchiha and vice versa. But centuries of conflict began to wear on members of the clan. Eventually, as the leaders of these clans grew up together over the decades of battle, the two came to a point where they decided to end the conflict once an for all. Not all of their clan members agreed, and conflict within the newfound alliance led to the deaths of both of these great leaders. But, viewed as martyrs for their cause, their deaths brought the fighting to an end, and one of the greatest ninja alliances in all of history occurred.
Their new alliances inspired other to join their cause, rallying together as ninja and forming Konohagakure no Sato and establishing a council of elders to lead the village until a leader, a Hokage, could be chosen from their number. However, not all the Senju rallied to this new home. Many spread out across the world, and they can be found in almost any place where shinobi gather.
Requirements:
For Wood Release: Must indicate at character creation, must use their 2 free spec points on Ninjutsu or Medical Ninjutsu
Description:
There are two parts to the Senju Kekkai Genkai. The first part is what everyone in the clan inherits: their incredibly strong will-power and ability to utilize and quickly train a variety of skills in the form of specializations and elements. Every Senju member receives a 10% discount to the word count to train any of their specializations and elements (expect for Mokuton itself). Furthermore, the philosophy of the Senju clan permeates each and every one of them. Their strong willpower is renowned as one of the traits that made them one of the greatest clans to ever walk the Ninja World. All Senju are able to remain conscious until dropping below 5 chakra instead of 10. Furthermore, members of the Senju clan gain the Durable trait that does not need to be balanced with a negative trait.
Code:

[b]Name:[/b] Durable
[b]Type:[/b] Positive
[b]Description:[/b] Someone with this trait is has an exceptional natural endurance. As such they receive a passive buff of +1 Tier to their Constitution. Additionally, they can maintain their top speed or strength for a single post more than their Constitution would normally allow before needing to take a break.
Beyond this, those Senju who
do not
choose to take on the Wood Release gain an enhancement to their general specializations by gaining three additional specialization points that they can use for whatever they choose.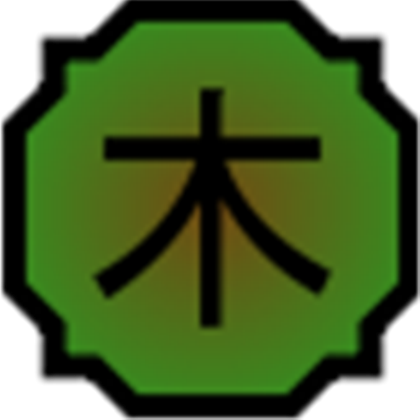 The second power of the Senju clan is the Wood Release (Mokuton) advanced nature transformation. This ability, passed down to the clan by some of the rare few members of the clan who manifested the ability, allows the user to mold together Earth Release and Water Release to create a Wood release,though it is not the living wood release that manifested in only a couple of the clans members over all of the generations of its existence. Wood Release at its base is fairly simplistic and can be used to create wooden structures and anything that simple wood can do/create. Wood Release techniques can be produced from the ground, as well as non-metal substances like rooftops. Organic mass, very often the Senju's own body, can also be turned into a catalyst for Mokuton, as can existing plants. The ability to breath life into the Wood Style and create living plants/wooden structures comes from a limited ability stacked on top of those who already possess the basic Wood Release. Mokuton has a natural strength against Doton (earth) jutsu but has a natural weakness to any Katon (fire) based jutsu.
Drawbacks:
Like all Advanced Element users, the Senju are granted Suiton (Water Release), Donton (Earth Release) and Mokuton (Wood Release) upon character creation at a total cost of 6 points. Additional elements after these will cost the shinobi 6 points instead of the usual 5 point cost.
The Senju clan are one of many skills and though they have a much easier time learning how to handle their specializations and elements, they have a much harder time learning the jutsu. All Senju require 10% increased word count to learn jutsu.
Despite their difficulty learning jutsu, Senju strive to be the best at what they do. They push their bodies and abilities to absolute limits in order to progress further than others. In order to increase in Rank, Senju must train two additional jutsu of their rank and have at least one specialization at the maximum allowable rank for their character rank before advancing (ex. for a D-Rank Senju to reach C-Rank, they must train two additional D-Rank techniques and have at least one specialization at B-Rank).
Furthermore, due to their naturally potent life force, the chakra flowing through the members of the Senju clan is never less than that of an average ninja. Members of the Senju clan must spend the 5 free spec points awarded at rank up on their chakra stat.
Lastly, members of the Senju clan depend highly on their allies to learn the "Thousand Skills" that they are so renowned for. While most Senju are usually able to learn one specialization on their own, in order to advance any of their specializations (beyond their first) above E-Rank, they must be shown how to use that specialization by another shinobi. This must be done with another player character in at least one thread of 2000 words that contains the training of the new specialization. These 2000 words can then be spent on the SP that is used to raise the new specialization to D-Rank. This does not apply to Limited specializations.
Last edited by Kyoshi on Thu May 16, 2019 3:38 pm; edited 5 times in total



Posts

: 629



So, to be nitpicky about the clan given that it's the Senju and all. Does a few spec points really encapsulate the Senju's notorious Strong Willed personalities?

Further, I'd like to see a more real drawback to go along with buffing the base senju life force stuff as well, the 10% wc is fine to balance their other wc but not much more



Posts

: 743



Pulled for some changes and re-modding



Posts

: 629






Posts

: 505



Upon second reading, I apologise for my error, but, the edits prior requested were not fulfilled. Please edit as instructed and re-read. Unapproved for now.



Posts

: 505



Similar topics
---
Permissions in this forum:
You
cannot
reply to topics in this forum